The biggest sporting events in Canada (part 2)
Bobsleigh and Skeleton World Cups
When it comes to the international bobsleigh and skeleton scene, Canada is a consistent star player. The country has won four Winter Olympics gold medals in 2014 for bobsleigh and was ranked third in the Olympic medal tables for the skeleton. Whistler Sport Legacies explains that they have World Cups every winter, which leads up to the Bobsleigh and Skeleton World Championships. These events are usually on an international scale, such as the Intercontinental Cup and the BMW IBSF World Cups.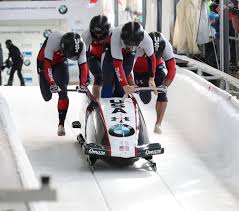 Ski Jumping Nordic Combined National Championships
Skiing is synonymous with Canada. There are a lot of holidaymakers who are keen to try out the sport during their stay at the same time seeing the experts in action. Whistler Sports Legacies explains that British Columbia regularly hosts some skiing championships in particular. They say that at Whistler Olympic Park, they have hosted Ski Jumping Nordic Combined National Championships in spring for the past few years.
The Whistler Sliding Center provides bobsleigh and skeleton for the public, and you can try out base boarding at the Olympic Park. The Whistler Sports Legacies mentions that like a hybrid of skeleton and bodyboarding on snow, riders descend down the groomed 1,500 meters course with banked turns and rollers. For more option, there are also shooting, skiing, electric-assist fat bikes, snowshoes and toboggans for you to try out.
Wheelchair Hockey
The Canadian Electric Wheelchair Hockey Association (CEWHA) Nationals is another brilliant adaptable sporting event in Canada. Chairman of the Board of the Ottawa Power Wheelchair Hockey League, Donna Haycock, explains the excitement that leads up to the annual event is that the event is a celebration of what Canada is all about: inclusion, diversity, and hockey.
In 1975, electric wheelchair hockey was introduced by a group of teachers and social workers. Since then, the CEWHA has opened up this typically Canadian sport to a much wider pool of competitors, which displays true Canadian spirit.